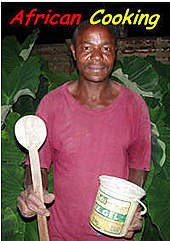 Today we will have an African cooking lesson!
Aaron, my neighbor will show us how he makes his usual dinner
called "mieliepap" or "maizemeal" or "nsima" or "putu"
This is a very common dish thoroughout Africa.
It's made from corn flour.(2.5kg costs 75c)

First, you have to boil water in a pooitjie. It must be really HOT!



While waiting for the water to boil,
everyone sits around the fire and talks in the smoke.
I don't understand Zulu, but the sun was setting and
there was the smell of burning wood and earth.
This is the smell of Africa for me.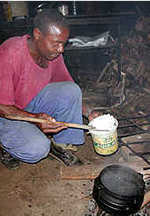 Put maize flour in the hot water.
and mix well. Take care not to burn it.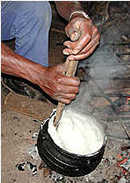 FINISHED!

The cooking time is about 30 minutes to 1 hour.
You can boil it as much as you like.
Amazingly, African people can handle very hot things
like steel pots or red hot charcoal with the bare hand!
I would have to go to hospital with burns.
Is it a matter of practice?

As for the Taste...Well, the first time I ate this
it tasted like soap and didn't like it!
But now, with a lot of sauce
it's quite good!
And it makes you really really full.
The Source of African Power!




It's very Hot, but you should use your fingers to eat it.
Take some in the right hand and soak it in
the chicken stew or vegetable sauce.
Then push it into your mouth with the thumb.

Once, when I was travelling through Africa,
I had to stop at an African Village for the night.
I was invited to the chief's house for dinner.
The menu was this Hot mieliepap with boiled chicken.
Everybody sat in a circle and started eating
straight from the pots which were put in the middle.
The piece I took was boiling hot and I cooled it down
by throwing it from hand to hand. By the time it was cold
enough to eat, everybody else had finished and the pots were empty!
I spent a hungry night.
Africa wins!


Join our tour to Namibia in May!
Click here to find out the details!
We plan to get really close to animals and nature!

(See last weeks story and others here.)



Click here to receive Africa Now in your Email !


Copyright(C) 2003 You and Africa. All Rights Reserved.


.