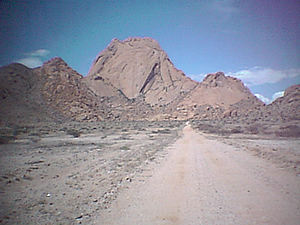 Namibia is a land of deserts and vast spaces.
The bones of the earth are visible here.
Spitzkoppe in Namibia
is one of my favorite places.
From the top of one of these huge strange rocks
you can see the most beautiful African sunsets.
Surrounded by alien looking rocks, there is nobody else but you.
As the sun sets, the colors change from orange to true red
and the sky turns from light blue to violet to dark blue...
You can feel the earth all around you.
But the beauty is not just above ground!
There are millions of semi precious stones.
Tourmaline, aquamarine, topaz, quartz, chrystal...
You can dig them out yourself,
or buy them from african people selling along the road.
I love stones, and soon my pockets become heavy with beautiful chrystals,
some of which contain a drop of thousand year old water,
sealed in the stone at the moment of creation.
There are big pale blue topazes, ball shaped garnets and sticks of aquamarine.
It is such a pleasure to look for the perfect gemstone. And they are only $1- $2!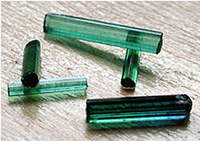 Tourmaline, my favorite!
Silver topaz
Rough cut blue topaz


They can be cut and set by a jeweler,




Blue topaz found in Spitzkoppe. Cut and set in SA.
This was my last birthday present to myself.
Every year I make my own original jewelry.
What should I create this year?
I have to go to Namibia and dig around!





(See last weeks story and others here.)



Click here to receive Africa Now in your Email !


Copyright(C) 2003 You and Africa. All Rights Reserved.

.